California
Dear Friends of Duncan Dancing,
We really hope to see you tomorrow, Sunday, November 19th at 6pm for our 3rd Salon Concert Series performance! Tony Chapman will be performing his original compositions to help us
raise funds for our 20th anniversary gala performance scheduled for June, 2018.
Thank you for your support.
Looking forward to seeing you soon!
The Mary Sano Studio of Duncan Dancing
Salon Concert Series No.3
Contemporary Piano and Dance
Sunday, November 19th @ 6 pm
Join us for this special event, with all proceeds going toward our 20th anniversary theater performance project taking place June, 2018.
Tony Chapman is here from Los Angeles to perform his original compositions, with
Mary Sano and Her Duncan Dancers joining him for selected pieces.
Suggested Donation: $20-30
*Each ticket includes one free entry into our 20th Anniversary Raffle, with a growing list of prizes!
For reservations
please contact us by email
Thank you!
Mary Sano Studio of Duncan Dancing
245 Fifth Street, Studio 314
San Francisco, California 94103
Phone: 415-357-1817
Carmelita Chao and Hal Lim recently performed at a charity fundraising event
"Creativity Seed Plan".
Attached is a link to the video of the performance:
CARnHAL "BigFish & Begonia" "Le grand poisson & Bégonia" (大鱼海棠)
Dear Friends of Duncan Dancing,
We hope you are having an amazing 2017. As many of you know, this year marks the 20th Anniversary of our studio opening, and we can't wait to celebrate Isadora's birthday with you at the Dionysian Festival.
We are very excited about this years program. We will be welcoming back dancer/choreographer Megan Nicely and visual artist Aisla, as well as pianists Benjamin Akeala Belew and Tony Chapman; both of whom will be presenting new compositions in collaboration with Mary Sano and her Duncan Dancers. We will also be joined by two new artists at this years festival; dancer/choreographer Marcy Risque and music trio All That Bad, which features an upright bass, trumpet, and harp!
Festival Date/Time: Saturday, May 27th at 8 pm & Sunday, May 28th at 5 pm
Seating is limited, so please contact us by phone or email to reserve tickets at the advance price of $20. Tickets will be $25 at the door.
Hope to see you next weekend!
The Mary Sano Studio of Duncan Dancing
245 5th Street, Studio 314, San Francisco, CA 94103
415-357-1817

Saturday May 6, 2017 @ 3:30pm
4000 Middlefield Rd, Palo Alto, CA 94303
Early Bird Special before 4/22 - $15 Gen, $12 Student/Senior
After 4/22 - $20 Gen, $15 Student/Senior
A Bharatanatyam solo that seeks to reclaim the heritage of the all encompassing Goddess as a role model for the modern day woman.
Concept & Choreography: Rasika Kumar
Nattuvangam & Direction: Malavika Kumar Walia
Vocal, Music Composition, & Direction: Sindhu Natarajan
Flute: Ashwin Krishnakumar
Supported by Abhinaya Dance Company of San Jose
Summer 2017 Isadora Duncan Dance Workshop
August 13-16 at Mills College
Join us for the Isadora Duncan Dance Foundation's summer workshop in Isadora Duncan's birth state, California! The workshop includes Isadora Duncan technique and repertory classes. Evening activities can include video screening, book discussion, tea with photographer Margaretta K. Mitchell, and a tour of the Berkeley Hills (Greek Theatre-U.C. Berkeley, The Temple of Wings, Berkeley City Club, and other landmarks of historical interest).
Dates: August 13-16
Location: Mills College in Oakland, California
Description:
Classes will be taught by Lori Belilove, the world's leading teacher and performer of the dances of Isadora Duncan, guest artist Adrienne Ramm, former soloist of The Isadora Duncan Centenary Dance Company, and other guest artists TBA. Students will work to increase their technical and expressive capabilities in a positive and supportive environment. The workshop will provide an immersion into Isadora Duncan technique and repertory.
Students who participate in the entire workshop will receive a Letter of Completion from Lori Belilove, Artistic Director, Isadora Duncan Dance Foundation.
Schedule:
The workshop begins immediately after the Isadora Duncan International Symposium at ODC in San Francisco.
Schedule is subject to change.
Tuition: $300 for the entire workshop. It does not include travel, housing, or meals.
Space permitting, students unable to attend the entire workshop and/or interested in technique classes only are welcome to technique classes, August 14-16, 10am-12:30pm. It is $30 per class; $100 per day.
Scholarship:
A limited number of scholarships are available for students of Mills College. To apply, please email tina@isadoraduncan.org your resume and a letter of intent, stating your dance and/or teaching background and interest in the workshop. Scholarship application deadline is June 1.
Questions?
Please email tina@isadoraduncan.org or call 212-691-5040.
Can't make it to California? Join us in New York!
Our summer workshops in New York City will be held June 26-July 1 & July 24-29, 2017. Information to come!
Our mailing address is:
Dance of the Deer Foundation
P.O. Box 699
Sunday, March 5, at
6:30 pm
(doors open at
6:00 pm
)
David
Chernyavsky (Violin- SF Symphony Orchestra) and Mutsuko Dohi (Pianist) will perform Beethoven's "Spring Sonata" and Franck's "Sonata in A major" as well as selected short pieces with guest performer Mary Sano.
Tickets: Adults: $30, Seniors(65+)/Children under 18: $20, Children under 10: Free. Tickets include complimentary refreshments.
Bay Area Dance Week 2017
Join us for our annual Open House event
Intro to Duncan Dance: Isadora's Past, Present and Future
Saturday, April 29, 12-3 pm
International Dance Day (free to the public)
*Free Dance Class (12-1 pm) taught by Mary Sano
*Open Rehearsal (1-2 pm) by Mary Sano and her Duncan Dancers
*Q & A Session (2-2:30 pm)
Mary Sano dancing to Brahms
The 20th Annual Dionysian Festival:
Celebrating the 140th Anniversary of Isadora Duncan's Birth
Saturday, May 27 at 8:00 p.m. and Sunday, May 28 at 5:00 p.m.
Mary Sano and her Duncan Dancers
photo by Steven Gregory
Confirmed Artists thus far:
Mary Sano and her Duncan Dancers
Tony Chapman - Contemporary Piano and Voice
Benjamin Akeala Belew - Neo Classical Piano
Aisla - Visual Arts/Painting
More to Come!
Winter Duncan Dance Class/Workshop
For Adult and Teens: Ongoing - March 10
This seven week series of Workshops will introduce basic Duncan dance concepts and technique to students who would like to experience Duncan dance for the first time or for those looking to keep up their technique.
Bring your Duncan tunic if you have one, and if not, we will make one!
Time: Sundays 12:30-3 pm, Wed. & pm
Fee: Drop-in $30, Series package pricing available
*Our next session will begin from April 12 - May 26
For Children (7-10 years old): February 5 - March 5
In this series, children will learn to explore movement in free and creative ways, and begin dancing to the music of Schubert, Schumann and others.

Time: Sunday mornings, 11:30-12:15 pm
Fee: Drop-in $20, Series $90
To register for workshops or purchase tickets,
please contact us by email or calling
Mary Sano Studio of Duncan Dancing
245 Fifth Street, Studio 314
San Francisco, California 94103
USA
Phone: 415-357-1817
www.duncandance.org
Contact: azitamilan@gmail.com
Join us this Sunday, July 17 @ 4pm for a performance by summer workshop dancers showcasing:
Jatiswaram, Thillana & Ramayana excerpts (Teachers - Artistic Directors Mythili Kumar & Rasika Kumar)
Recitation (Teachers - Malavika Kumar and above)
Padams by Rasika Kumar and others (Teacher - Guest Artist Bragha Bessel)
Karanas, a brief demonstration (Teacher - Guest Artist Radhika Shankar)
Yoga/Kalari Routine (Teacher - Guest Artist Surabhi Bharadwaj)
Historical Snippets (Mythili Kumar)
Sunday, July 17 @ 4pm
Sanatana Dharma Kendra
3102 Landess Ave, San Jose, CA 95132
Tickets: $5 at the door
FREE for Friends of Abhinaya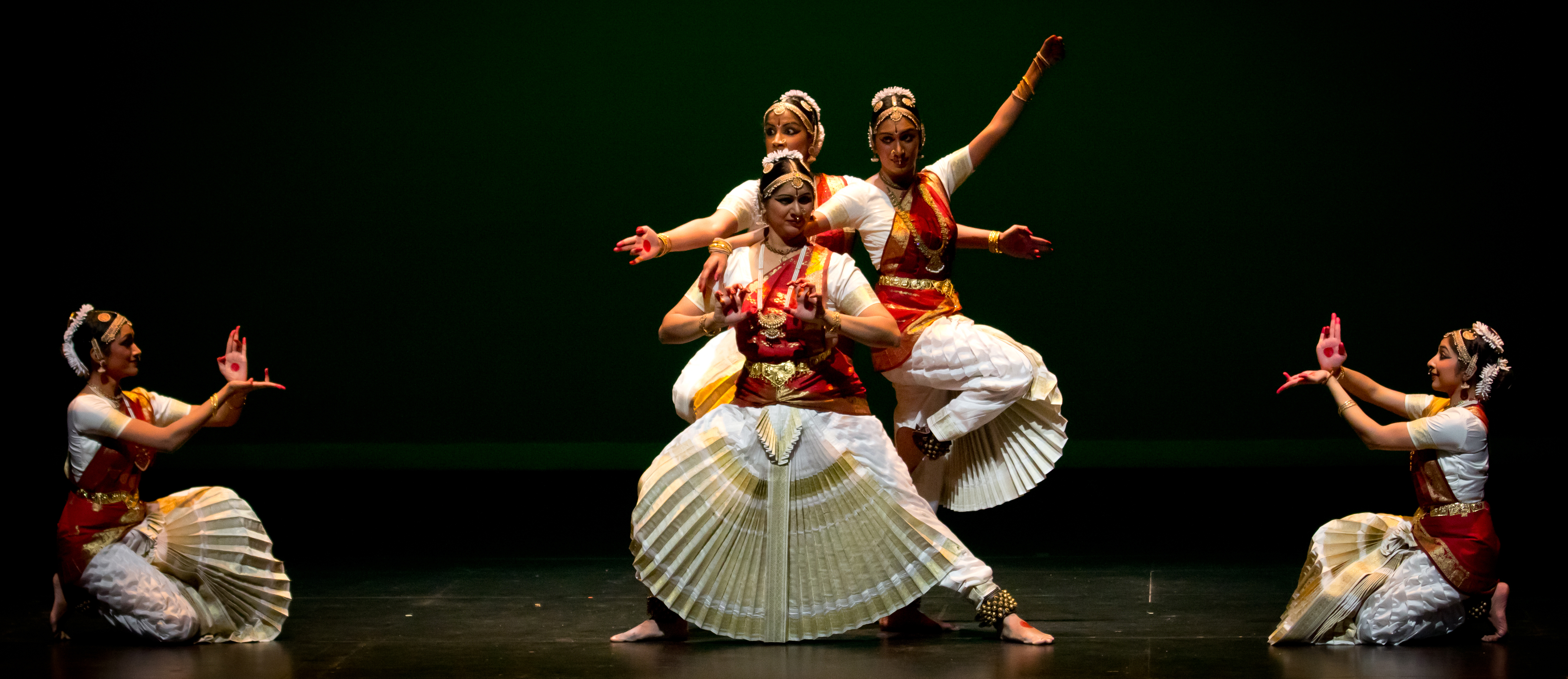 2016 Arangetrams
Abhinaya's student arangetrams are free and open to the public.
July 31 @ 4pm - Varsha Raghavan
Mission City Center for Performing Arts in Santa Clara
Aug. 14 @ 4pm - Tanuja Gobbur
Woodside High Performing Arts Center in Woodside
Aug. 21 @ 4pm - Abinaya Srikant
Mission City Center for Performing Arts in Santa Clara
Sept. 18 @ 4pm - Anjali Santhosh
Mission City Center for Performing Arts in Santa Clara
SOBREVIVIENDO,SOBRESALIENDO-SURVIVNG, EXCELLING
DANZA FLORICANTO/USA CELEBRATES ITS 40th ANNIVERSARY
SATURDAY, JUNE 18TH, 8:00 PM
AT THE NATE HOLDEN PERFORMING ARTS CENTER
WHEN: Saturday, June 18th, 8:00 pm.
WHERE: Nate Holden Performing Arts Center
4718 Washington Boulevard
Los Angeles, CA 90016
TICKETS: Tickets, $20 pre-sale $25 at the door
Children under 12- $5 at the door
For ticket sales and information please call 323-261-0385
Or go to http://www.danzafloricantousa.com/store.php
Los Angeles, CA: 2016 marks the 40th Anniversary of Floricanto's presence as part of the Los Angeles' dance landscape. This momentous occasion will be celebrated with a full evening concert that will reprise some of the company's most memorable choreographies and the premiering of new works created for this occasion by both Gema Sandoval, director of the company, and Christie Rios, Sandoval's oldest daughter and heir apparent to Floricanto. This colorful program will take place on Saturday, June 18 at 8:00 PM. The Nate Holden Performing Arts Center is located at 4718 Washington Boulevard, Los Angeles, CA 90016. Tickets are $20 pre-sale and $25 at the door. Group Rates are also available To purchase tickets on line go to: http://www.danzafloricantousa.com/store.php .For more information, please contact Floricanto at 323-261-0385.
Brazilian Nites Productions
presents
22nd Brazilian Summer Festival 2016
MONOBLOCO
Sunday, July 31
Aboard the QUEEN MARY of Long Beach
Tickets will go on sale now! http://www.BrazilianNites.com
Los Angeles Debut!
LULU SANTOS
Sat. July 9 - 8pm
El Rey Theater
5515 Wilshire Blvd., Los Angeles 90036
AHSA is proud to announce that it is currently organizing a dance competition,
[just south of San Francisco, and by San Francisco International Airport]
with strong participations from within the US and overseas.
We hope CID dancers will show a strong presence at BravoComp2015.
Hae Kyung Lee & Dancers Performance
Saturday, April 18th, 2015, 8:00pm at Caroline's LOFT

Internationally-acclaimed choreographer Hae Kyung Lee explores
the aesthetics and spiritual strengths of her Korean ancestry in
a creative process that is both ancient and postmodern to create
her radiant and passionate choreography. Lee's choreography
explores the inner forces of life and goes beyond reality.
The evening features an original score by composer Wes Hambright.
Saturday, April 18th, 2015 at 8:00pm
The performance will be at Caroline's LOFT
5151 State University Drive, Los Angeles, CA 90032.
For Ticket Reservations: HaeKyungLeeAndDancers@gmail.com
Guru Shradha presents
Sahanartana
, a collaboration of Odissi with Bharatanatyam, Mohiniattam, Kuchipudi, Manipuri, and Kathak.
The show also features the daughters of eminent Bay Area dancers:
Maya Lochana Devalcheruvu, daughter of Niharika Mohanty
Athira and Aryaa Pratap, daughters of Bindu Pratap
Urmila Vudali, daughter of Usha Srinivasan
Vani Suresh, daughter of Shreelata Suresh
Adhya K. Kasamsetty, daughter of Madhuri Kishore
Anupriya Nag, daughter of Anuradha Nag.
The show will take place in Cubberley Theatre (4000 Middlefield, Palo Alto, CA) on Saturday, February 28th at 4pm.
Looking forward to seeing you.
"Dancing is the loftiest,the most moving,the most beautiful of the arts,because it is not mere translation or abstraction from life; it is life itself."
This is the first event of the year at the Floricanto Center for the Performing Arts.
Gema Sandoval, Artistic Director
Floricanto Center for the Performing Arts
"FIESTA DEL DÍA DE LOS MUERTOS"
14th Annual "FIESTA DEL DÍA DE LOS MUERTOS" for Danza Floricanto/USA at the Floricanto Center For The Performing Arts
WHO: Danza Floricanto/USA, Director, Gema Sandoval
WHAT: "Fiesta del Dia de los Muertos ~ Day of the Dead
Celebration"
WHEN: Saturday, November 8th, 8:00 p.m.
& Sunday, November 9th, at 5:00 p.m.
WHERE: FloricantoCenter For The Performing Arts
4232 Whiteside Street
Los Angeles, CA90063
TICKETS: $15 Pre-Sale $20 at the door
To purchase tickets go to: http://www.danzafloricantousa.com/store.php
For more information call: 1-323-261-0385
The Floricanto Center For The Performing Arts will be transformed into a local cemetery by Danza Floricanto/USA to commemorate their 14th Annual "Fiesta del Día de los Muertos" on Saturday and Sunday November 8th and 9th at 8:00 p.m and 5:00 p.m. respectively. Through a series of vignettes that celebrate and honor this very traditional Holiday– Chicano style-the company, under the direction of Gema Sandoval, will tackle a series of social issues (love, death, teen pregnancy, immigration, abuse of women among others) with humor and respect. Now on its fourteenth year, "Fiesta Del Día De Los Muertos" has become an annual Floricanto tradition that takes place at their home, The Floricanto Center For The Performing Arts. You now have many choices on how to commemorate this celebration of life. Our Fiesta Del Dia de los Muertos program is still intimate, family oriented, affordable and in the barrio.
The Day of the Dead is celebrated in communities throughout South America on November 1 and 2, when families and loved ones traditionally visit their santos difuntos (blessed dead ones), praying for them while they clean their tombs and bring them gifts of what would have been their favorite foods, drinks, and flowers. It is a manifestation of respect; a way to let the departed know they are remembered, celebrate them and ask them to intercede with particularly worrisome earthly problems.
In the foyer of The Floricanto Center on November 8th and 9th the audience will find a traditional ofrenda (community altar), created by Floricanto's Programs' Director, Christie Rios to commemorate the dead. There will be pictures of the dance company's dearly departed, along with their favorite foods, flowers and messages of love. Audiences in attendance will be invited to participate by writing the names of their own departed and place them on the altar, to join in the remembrance. Early arrivals will also be able to have their faces painted.
As the audience moves into the theatre's "cemetery," a series of characters who live there will tell their stories and share their concerns through dance. The evening's guide will be the famous skeleton known as "La Catrina," first conceived by early 20th-century Mexican graphic artist José Guadalupe Posada, and made famous in the murals of Diego Rivera.
Danza Floricanto/USA's Fiesta del Dia de Los Muertos takes its inspiration from the very traditional Day of the Dead activities in Mexico-altar offerings of favorite foods and flowers honoring our dead, processions to the grave sites, songs and candles, sugar skulls, skeleton dioramas, and paper cuttings-then gives it a contemporary flavor, designed to entertain and delight the whole family.
Gema Sandoval
floricanto@att.net
562-335-8554
International
Dance Festival
Silicon Valley
August 11-17, 2014
FESTIVAL EVENTS:
M2F WORKSHOPS , August 11–15 890 Church St. (MasonicCenter), Mountain View
• DUNHAM DANCE –Leslie Arbogast (San Diego)
• CONTEMPORARY & CHOREOGRAPHY—Leslie Friedman (San Francisco & Mtn View)
• SALSA—Leanne Rinelli (Buffalo, NY)
Participants in M2F workshops can perform in the Festival Concert (8/17)
Fee: $280 Early Bird (until june 30) / $325 Full Price
Scholarships available–for application see http://www.livelyfoundation.org/wordpress/?=cat2
FULL DAY OF DANCE © Saturday, August 16: Open Master Classes, take one or more
Pila tes ma t, Amity Johnson; Tap , Audreyanne Delgado; Dunham , Leslie Arbogast;
Etta's El ectric Lines, Etta Walton; Man ipuri, Sohini Ray; Salsa , Leanne Rinelli
Single class: $20 Early Bird (until 6/30); $25 full price. All 6 classes: $72 (until 6/30); $84 full price.
FESTIVAL CONCERT:
INTERNATIONAL DANCE FESTIVAL–SILICON VALLEY PERFORMANCE
Premieres & Guest Artists SUNDAY, AUGUST 17, 3:00 PM
Choreography & Performances by: Leslie Arbogast, Audreyanne Delgado,
Leslie Friedman, Sohini Ray, Leanne Rinelli, Etta Walton, and The Festival Dancers
Mountain ViewMasonicCenter, 890 Church Street, Mountain View
Tickets: $12 general adm iss ion / $10 ov er 65 or und er 10 years / $25 Sponsor
Registration , CONCERT Tickets , Information :
www.livelyfoundation.org/wordpress/?=cat2
livelyfoundation@sbcglobal.net • or call (650) 969-4110
Thanks to our partner: Mountain View Parks & Recreation Dept. The Lively Foundation is a member of Theatre Bay Area;
Dancers' Group; and Golden Gate Business Assn. The Lively Foundation, Inc. is a not-for-profit, tax-exempt corporation
devoted to the production of artistic and educational programs in dance, music, and related arts.
Leslie Friedman, Ph.D.
"with her strong technique and capacity for expression she was simply a joy to watch!"–The Times, London
Artistic Director, The Lively Foundation
Co-Editor, The Hedgehog, the international arts review
web: http://www.livelyfoundation.org
blog: http://www.livelyfoundation.org/wordpress
tel: 650/969-4110 FAX: 650/964-6858
550 Mountain View Avenue
Mountain View, CA94041-1941